"I feel like Poway and the greater San Diego area is extremely lucky to have a new Chiropractor in town. Dr. Chris is a very talented and knowledgeable doctor, which is to be expected with his experience and education. What I am so pleased about is that not only is he a good doctor, but he is such a nice, personable, honorable man as well. I look forward to many, many years with Dr. Chris and I welcome him with open arms. I could not be happier and I encourage others who are in pain and need help to reach out to him. He keeps my pain in abeyance and he keeps me off the operating table. For this I am so grateful. Thank you Dr. Chris!" Linda Lyles
"Thank you for helping my nine month old! He had been sick for over a week and after Dr. Chris found four vertebrae out of alignment, he was able to give him gentle adjustments and within minutes we saw him coming back to life. His eyes grew brighter, his skin tone looked better, he started smiling, laughing and wanting to walk like he had been doing before he got sick! This was a few days ago and he is back to his old self! Next time I will take him in right away at first signs of illness. Thank you!!!" Melanie Price
"Dr. H is by far the best chiro I have ever been to. He really cares, takes his time, keeps trying, and genuinely wants you to be healthy. He is extremely knowledgable in many different areas of his practice as well. I have recommended him to every single person I can! I'm so sad he moved and I can longer see him, so do yourself a favor and take advantage of having him in your area. You will not be disappointed!" Ruby Wiswall: General Manger for Miami Surge
"Dr. Hengesteg was a life saver for me. I was in a major car accident and was told I needed surgery on my back. I was told I would never ride a bike or do similar activity again. I simply didn't want to risk someone cutting on my back at such a young age. After seeing several chiropractors over the years, I finally met Dr. Hengesteg. After working with him, I got to a point that I no longer lived in pain. I resumed regular activities without any restrictions!! This was a miracle. I have worked with about five chiropractors and Dr. Hengesteg is by far the best!! He doesn't just go through the motions treating each patient in the same manner. He develops a treatment plan that is specific to your needs and your body. He gets results.In addition to helping me with my back, I referred a friend that complained of knee pain for years. Turns out his spine was out of alignment and this was throwing his whole body off. After he worked with Dr. H he could run again without knee pain.He is gentle, he is professional, and he listens. All this and he is a GREAT chiropractor! If you are searching for one you will not be disappointed when you choose him!" Heather Edwards
"I broke my back years ago so I have to be careful on who I pick for my doctor. I had been struggling with such pain lately that I was pretty much immobilized and leery of seeing a chiropractor again. I was referred to Dr. Chris through a trusted source and I'm glad I came in... He did a full assessment and really listened to my story. He helped me out together an action plan and I'm feeling alive again. Best chiropractor in San Diego. Hands down." Greg Romero
This is a photo of Dr. Chris adjusting former Pro Skater Greg Romero!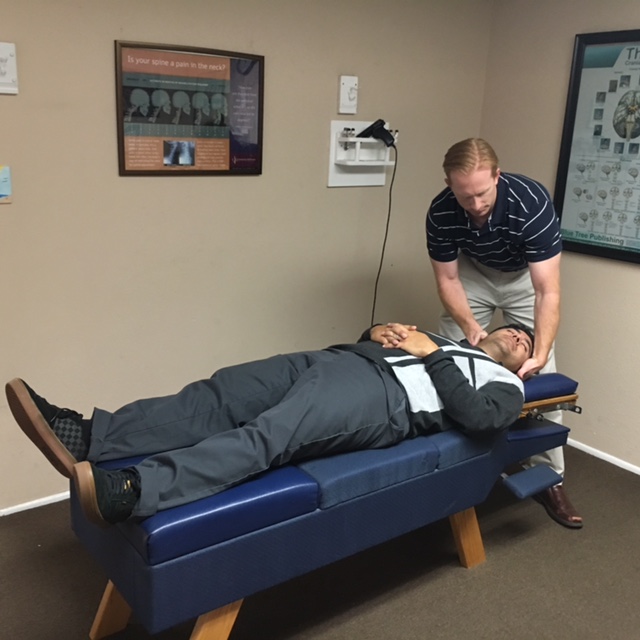 "Dr. Chris has been a blessing. After having two back surgeries, including a fusion, I had come to accept that pain would be a permanent part of my life. Dr. Chris has managed to not only make adjustments that have diminished my daily pain, but has also been able to improve my overall health, including headache relief, finally freeing a pinched nerve that I had suffered with for over 20 years, and correcting a hip that was out of place.

I will always be grateful for the amazing improvement in my daily life due to the dedication and knowledge of Dr. Chris." Dawn W.
"Dr Chris's clinical nutrition expertise has helped me a lot. For years I have been dealing with digestive issues. I justfinished the 21-day cleanse he recommended as well as completingtreatment for parasites and candida. What a difference in how I feel now - so much better!" Nancy Datte
Chiropractic Chiropractor Chiropractic Chiropractor Chiropractic Chiropactor
Chiropractic Chiropractor Chiropractic Chiropractor Chiropractic Chiropactor